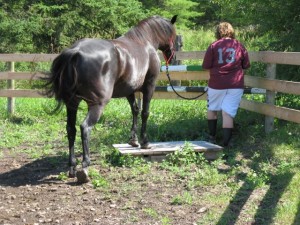 Horses, being prey animals, have the instinct to perceive danger in every situation and to react impulsively (by running) when faced with that danger.  People who have suffered abuse deeply understand this fear response and flight reaction.  Having been through the experience of being someone's "prey," they also tend to see danger in every situation and often react impulsively rather than rationally.
Our aim is to help both the horse and the student control and overcome their instinctive fears, and view and deal with their situations more rationally.  This is accomplished by using natural horsemanship training techniques, which are based on 1) the study and understanding of the psychology of horses in their natural environment, 2) communicating with horses and earning their respect, without using force or intimidation, and 3) building a bond of trust.  The horse discovers how to trust the human as its leader in situations where it might be instinctively fearful.  The student begins to recognize that she is able to make good decisions and develop qualities that make her a better leader for the horse, herself and others. The goal is to break the cycle of fearing, reacting and running, in both the horse and the student.
People who have suffered abuse have usually done so at the mercy of someone bigger and more powerful than themselves.  This can ingrain in them the idea that in order to get what they want they must use force and intimidation.  Teaching these students how to gain the respect and cooperation of a large powerful animal like a horse, by using positive, humane methods, builds their confidence in fearful situations and gives them new understanding of how to build healthy relationships in their day-to-day lives.