Congratulations to Marilyn Williams for winning the art raffle!  Thank you to all who participated.
Art Raffle!  We have had a wonderful oil painting by talented artist Maya Evantov donated to us to raffle as a fundraiser.  The painting is called Field of Flowers and has a value of $750.  It measures 16″ X 20″. Tickets are $10 or 3 for $20 and the raffle will be Dec. 1, 2012.  Contact us if you are interested in tickets!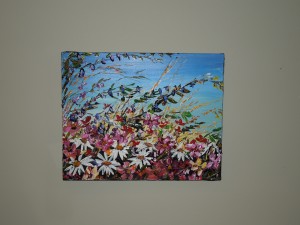 October 5, 2012   For the first time, we rode Contigo (Paso rescued in June) this week.  Just sat on him bareback the first time, led him around the second time, and rode him at a walk with the saddle on the third time.  Considering we were told by his previous owner, who we were able to track down, that this was a vicious horse and that we should NEVER NEVER try to ride him, we were very pleased with his acceptance of us.  A little understanding goes a long ways!  Contigo has gained confidence and trust over the few months that we have had him and we look forward to a happy future for him!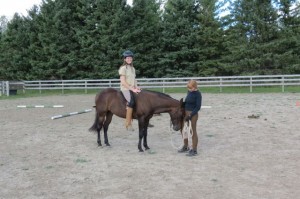 July 2012 –  We named our new rescue Contigo which is Spanish for "with you".  We felt this was fitting considering his separation anxiety.  Rebekah did some research – sending Contigo's picture to the Paso Fino Association – and tracked down his previous owner.  The owner imported Contigo from Columbia.  He told us not to keep this horse, that he was a "very bad apple".  He said he was vicious and should never ever be ridden.  We'll see.  I think this little horse was just badly misunderstood.
June 28, 2012  Wow, what a busy week  it has been!  On Saturday we delivered Hope to her new home.  She seemed to be happy to be there from the moment she arrived.  She is a companion horse for Molly.  Molly has been alone since early April and was acting depressed.  Molly now has Hope and a new outlook on life!  On Tuesday we headed to the meat auction to look for our next rescue.  We had success and brought home a 4 year old Paso Fino gelding.  This little guy is very thin but otherwise physically healthy as far as we can tell.  Emotionally he is not so healthy.  As long as he is not alone he is fine, but the moment he is put in a stall and the other horses are out of sight he has a panic attack.  He is fine by himself with a person and is delightful to work  around, he just has issues being confined and alone.  You have to wonder what he has experienced in the past to cause him such anxiety.
June 8, 2012  Wonderful news!  A generous donor has sponsored Grace and requested that we keep her and continue to use her in our program.  This thrills us all.  We not only get to keep Grace but this also allows us to rescue another horse!
June 4, 2012  We had a wonderful day at the Open House with over 200 attending.  Pictures to be posted soon!
Open House 2012: Mark your calendars for Sunday afternoon, June 3rd, 1-5 p.m. Come for the afternoon and enjoy hay rides, BBQ, horse demonstrations, games and live music. Meet our staff, horses and Donkioti too! Be sure to bring the kids and grandkids!
Be sure to check out the videos on our You Tube Channel:  www.youtube.com/user/GatewayEquineHealing
August 28, 2011 – Our newest rescue came home August 23rd.  She is a very gentle sweet standardbred dark bay mare.  She was bought for slaughter and we purchased her back before they got a chance to load her on the stock trailer.  She needs to put on some weight, but she has not been starved like Grace was.  Her feet have been badly neglected and she has very contracted heels due to being shoed for many years and pounding the pavement as a Mennonite cart horse for the last 1o years.  She started her life as a race horse and brood mare before being bought for a cart horse.  We are in the process of naming her and will post pictures as soon as we have decided on a name!  We are hoping to post video of her hoof rehabilitation.
We are in search of our next equine rescue.  We will be heading to the meat auction in Kitchener each Tuesday, hoping to find that special horse.  Prayers for wisdom appreciated!
July 6, 2011 – Today was a very sad day as we said goodbye to our beloved Samson.  It was time for him to move on to a new home so that we can rescue and rehabilitate a new horse.  Sammy will be in his element at Circle R Ranch where he will be loved by many many children and adults alike.  I am sure he will entertain them for years to come with his endearing personality and comical antics. You will always be remembered  fondly by us Sammy.
June 8, 2011 – For those of you who are regularly on-line and have a Facebook account, please check out our newly created Facebook Page where you will regularly receive notices and updates about the farm, the animals, our program, the impact on students, etc. and receive invitations to attend specific activites happening at Gateway.It's quite easy to do once you have a Facebook account, just do a search for Gateway Equine Healing Centre, Non-Profit Organization page (or click on the attached link) http://www.facebook.com/#!/pages/Gateway-Equine-Healing-Centre/201739469871181 and click the "Like" button which is located beside the Gateway name at the top of the page.  After that, you will begin to receive notices and updates directly to your Facebook home page about Gateway.  Please also "Share" the page with your friends on Facebook to increase awareness about the wonderful things happening at Gateway Equine Healing Centre.
June 7, 2011 – Take a look at the most recent pictures of Grace.  You won't believe it is the same horse!  She is looking absolutely beautiful and is full of life.  She is learning quickly under saddle.
April 15, 2011 – It has been a long cold winter, but we are back full swing into our 2011 season.   What a great start it has been. Although we have had some chilly days, the wood stove in the lounge is always warm and inviting. The horses are doing well, although like ourselves are a bit out of shape.  Our staff and students are excited to be back working with the horses and learning lots.  We have a great team of volunteers helping to keep things looking good and running smoothly.  We are looking forward to having campfire nights this year on a monthly basis and plan an open house event  late in the summer so keep posted!
Oct. 16th – Rode Grace for the first time today!  She was excellent, although we don't think she has been ridden before as she really wasn't sure what the leg meant.  Was catching on quickly though.  Check out the pictures in the Gallery.
Sept. 30th – "Amazing Grace" is doing wonderful.  She has put on weight and has passed her quarantine period with no illnesses.  She is now with the herd – all boys – so that is proving to be interesting.  Samson is madly in love with her, Caliber just wants to make sure she knows he is still boss, Raphi is indifferent, and Oti tries to keep the peace, heehawing loudly if he sees any trouble brewing.  The students are excited each week to see how both her and Samson are doing.  They help to groom Grace and are starting to do ground work with Samson.
August 31st – A new addition!  Our yet to be named standardbred mare came home for a second chance at life.  This mare has seen more than her share of hard labour and undernourishment, yet she has retained a lovely gentle disposition.  What joy to see her devouring her unlimited supply of hay and kicking up her heels in a little yahoo when we pulled her shoes and  turned her out to pasture!
August 4th – a milestone.  We brought home our first rescue.  Yet to be named, check out the pictures in the photo gallery of this beautiful Halflinger who was destined for the meat market due to founder (lameness issue).  Six to eight months of rehab should see him good as new.  One more precious creature saved.  Send us your suggestions for names!
His name is Samson!  A very appropriate name for a muscular boy  who likes to break fence rails and bend steel gates!  His sponsors named him, choosing from a list of names sent to us as suggestions. Thanks you for all of your suggestions.